Dave Lemon 1958-2009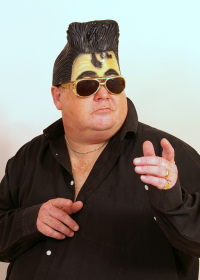 On the 9th August 2009, our drummer, colleague and friend Dave Lemon died suddenly and in very tragic circumstances, aged just 51.
The close relationships that form within a band will only be understood by fellow musicians and to suddenly lose a larger-than-life, fun-loving character such as Dave was almost certainly one of the most shocking events of our lives.
Tribute Event
Dave was extremely generous with his time and well-loved by audiences and fellow musicians alike. Those musicians and entertainers staged a tribute concert and dance on Sunday 8th November. The testimonial event celebrated Dave's musical life and was a truly memorable and enjoyable show for all who participated and attended including his wife Jenny and children Steven, Martin, Laura and Julie. Dave's Premier drum kit stood proudly in front of the stage.
Pictures and details of the day are archived here.
The Foot Tappers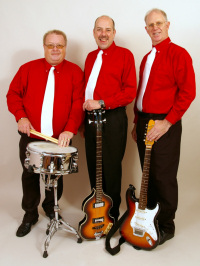 After the loss of Dave, with the help of some of Norfolk's top session drummers, Adrian and Nigel continued through until the end of 2009 to honour the band's bookings for the year.
In 2010 we began working under the name "Sky High" and had a very successful year playing to audiences that knew us as The Foot Tappers as well as finding some great new venues.
We'd like to thank all those who supported us over the years, from the original line-up of 2003 with Adrian, Dave and Dan Woodman, through to the last line up of Adrian, Nigel and Greg Hayes.
Particular thanks go to these fantastic drummers who kept the show on the road: Greg Hayes, Alex Cardarelli, Martin Richmond, Brian Ward, Marty Baldry, Mike Baldry, Ray Royal and Mick Piggford.
The Foot Tappers are now on extended leave but whatever happens, the web site remains as our online tribute to Dave Lemon.
Thank you ladies and gentlemen and goodnight...
Nigel Hawketts January 2011